Colour & Well-Being
For printable ad-free version from this page, please click on the small printer icon.
See text below for links to other printable resources.

Colour for Mental Health & Colour Breathing


Light & colour are vibrating energies, each colour having its own wavelength and frequency. The different colours are created by light waves of differing lengths. The colours we see in the objects around us are caused by the light waves being absorbed or reflected off the object. Without light, there is no colour. Dark objects absorb more light rays, and reflect less light, whilst objects that look light, are reflecting more light, and absorbing less.
We can use colour in our clothing, our decor, colours of food we eat, or visualise a colour, in crystals or stained water, our choice of plants and flowers, to help us balance and benefit our body, mind and emotions. We tend to instinctively be drawn towards the colours we need, perhaps being drawn to blue when feeling anxious or stressed.
Complementary Colours
Each colour has its own complementary or contrasting colour. A complementary colour is the opposing colour on the colour wheel. This is useful when you are, for instance, feeling blue - you can wear or visualise orange to lift your mood. When working with colours and feeling unsure, trust your intuition.
Primary & Secondary Colours
The 3 Primary Colours are Red, Yellow and Blue. Mixing 2 colours will result in the colour between them on the colour wheel. This is called the Secondary Colour. If you mix a Primary Colour with a Secondary Colour, the result will be a Tertiary Colour. Secondary and Tertiary colours will include properties from each of the colours, for example:
Orange will include properties of red and yellow
Green blue and yellow
Turquoise green, blue and yellow
Violet red and blue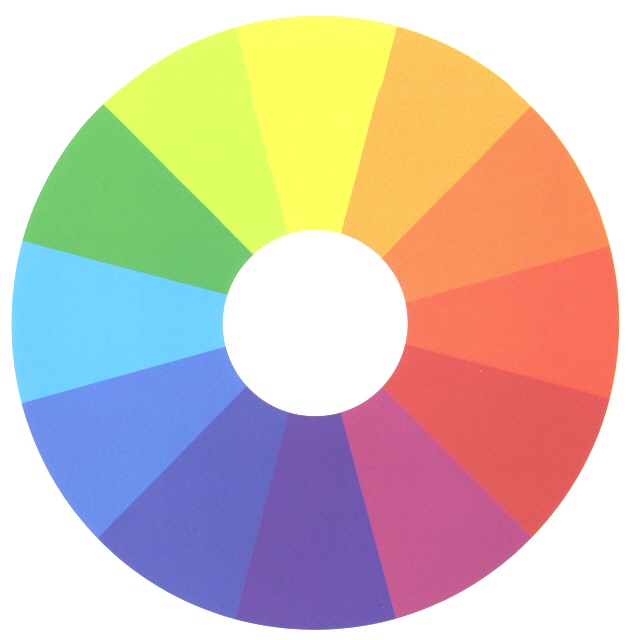 Warm & Cool Colours
On the Colour Wheel, warm colours are Red through Orange and Yellow . It's possible to mix a little of a warm colour to a cool colour to warm it. Warm colours tend to appear to come towards you, or feel closer to you. Red through Orange and Yellow are warm, energising and happy.
Cool colours (Green, Blue & Violet) tend to appear to go away from you, and give you more of feeling of space when used in a room. Green, Blue & Violet are soothing, calming and cooling.
Colour Personality
Max Luscher developed the Luscher Colour Test over a period of 20 years. The colours he used were selected for their associations with physical and mental states. He showed how our attraction to colours gives information about your personality. He used 8 colours, and interpreted the results according to the order the person listed the 8 colours, depending on how those colours appealed to them. I have used information from this test, in addition to other sources, for the 'Colour Personality' sections below.
The Colours and how they affect us
Red

Red is powerful, energy-filled colour, associated with life and vitality. Red relates to the physical body: it stimulates us and raises the heart rate. It has the longest wavelength and slowest vibration of all the colours. Good for helping us to focus on tasks that require attention to detail.
Promotes: stimulates body (including circulation, intestine and appetite), lively, energising, happiness. When used with its complementary colour of turquoise, red may help to counteract infections. The red is thought to increase blood supply to the area, and the turquoise to cleanse and reduce inflammation. Good for depression & negativity, initiative and motivation.
Unhelpful for: Associated with anger, irritability and impatience.
Don't use in: High blood pressure, heart conditions, sleep problems, epilepsy, asthma.
Complementary colour Turquoise
Use in the Home
Can make a space look smaller, and therefore be claustrophobic or oppressive. When used well, red can make a room feel warm & cosy. Often used in restaurants. Use it to create intimacy in a room.
Colour Personality
Choice of red as your favourite colour means you are impulsive, sexy and have a will to win. You are a good leader. You want to expand your horizons and live a life to the full. Red as your least favourite colour means your desire for life and thirst for adventure have become less.

Leadership, competitive, exhausting, extremist, focused, energetic, physical, healthy, vital.

You have enormous drive, but there may be too much going on in your life. To feel more serene, and for a natural detox, wear turquoise.
Colour for Mental Health & Colour Breathing
Orange

A joyous colour. It frees and releases emotions and releases feelings of self-pity, lack of self worth and unwillingness to forgive. It stimulated the mind and renews interest in life. It is a natural anti-depressant and lifts the spirit. A fun & sociable colour, although too much can contribute to frivolity and a lack of serious intellectual values. Orange is for independence and happiness. The energy of creation. Orange is thought to bring about changes in the biochemical structure, resulting in the dispersing of depression. It is said that it has been shown to be beneficial in chronic bronchitis, and due to its anti-spasmodic effect, helps in muscle spams and cramp.
Promotes: vitality, stimulation, self-esteem, independence, inner strength, optimism, creativity, self-expression, happiness, broadens and opens up the mind to new ideas and perspectives, understanding
Good for: depression, low self-esteem, bereavement, sexual problems
Don't use in: high blood pressure, nausea, anger, irritability.
Complementary colour Light Blue
Use in the Home
Colour Personality
Not included in the 8-colour Luscher Colour Test

Demonstrative, constructive, energetic, excitable, sociable, outgoing, hasty, confident, joyous.

Your body's full of positive emotions.
Yellow

A happy, bright and uplifting colour. It also stimulates the mind, intellect, emotions, and contributes to the expression of thoughts. It therefore aids memory, clear thinking, decision making and good judgement. It facilitates good organisation, and enables us to see different points of view.
It builds self confidence and encourages optimism. However, yellow can also be associated with fear and cowardice. Too much yellow can cause loss of self esteem and self confidence. Yellow can reveal a person's weaknesses and help to release deep-seated problems. It is thought to be effective in improving skin conditions such as eczema.
Promotes: self-confidence and respect, will-power, self-control, ability to rationalise and reason, intellectual and mental stimulation, flexible thinking, contentment, empowerment
Good for: indigestion, depression, sensitivity to criticism, stress, negativity, difficulty in thinking clearly
Don't use in: insomnia, hyperactivity
Complementary colour Magenta
Use in the Home
Activity rooms, play rooms, entrance halls, study. Not suitable for bedrooms as it can interfere with sleep. Not ideal for areas of possible stress.
Colour Personality
If yellow is your favourite colour means you are ambitious and eager to please. If yellow is your 2nd, 3rd, or 4th favourite colour, you are positive, optimistic and look to the future, never backwards. You find life easy, and problems just don't exist for you. Free from worry, you lead a carefree life; but this does not mean you are lazy. You can be extremely hard working, although not consistently. When yellow is one of your least favourite colours, you have had your hopes and dreams dashed, and you may feel isolated and disappointed, often becoming defensive and withdrawn.

Co-ordinated, domineering, intellectual, courageous, responsible, insecure, achiever, sociable, warm.
Colour for Mental Health & Colour Breathing
Green
Has a strong affinity with nature, and helps us to connect to others and to the natural world. It is the colour of balance. It gives a feeling of comfort and relaxation, calmness and space. It reduces stress, soothing and steadying our emotions. Green may also have antiseptic properties, and thought to destroy embryonic cell structure.
Promotes: Balanace, personal development, self-acceptance, compassion for self and others.
Good for: Stress, fear, self-pity, confusion. Physical health problems, nausea, cancer treatment, heart problems, blood pressure problems, immune system problems, fatigue, headaches, flu symptoms.
Complementary colour Violet / Purple
Use in the Home
Colour Personality
Green as your favourite colour, means you are persistent, possessive and quite selfish. You are a high achiever and an accumulator of "things" - like a penthouse, a Rolex, holiday flat, CD player. If green is down the list of your favourite colours, your ego has been bruised and you have been humbled by the resistance to your progress. Consequently, you can be highly critical, sarcastic and stubborn.

In equilibrium, conscientious, circumspect, harmonious, understanding, contented, cautious, reserved, tidy.
Turquoise
Invig

orating, cooling and calming. It is good for mental strain (nervous system), immune system and tiredness. It is helpful for feelings of loneliness, and heightens communication, sensitivity and creativity. Turquoise is thought to cleanse and reduce inflammation.
Promotes: physical healing, cleanliness, personal relationships, sharing.
Good for: inflammatory conditions, immune problems.
Complementary colour Red
Use in the Home
Colour Personality
Not included in the 8-colour Luscher Colour Test.

Calm & collected, communicative, well-adjusted, optimistic, childish, capable, dreamy, aware.
Blue
Calming, relaxing, soothing, cooling. Midnight blue has a strong sedative effect, allowing us to connect to our intuitive and feminine side. Good for creativity, and encouraging creative thinking. However, too much dark blue can be depressing. Blue affects our minds rather than our bodies. Blue can reduce inflammation, and be useful for stings and headaches.
Promotes: calm, peace, relaxation, slowing down, steadying, self-expression, intuition, honesty, truth, cleansing, soothing.
Good for: infections with fever or inflammation, stings, headaches, period pains, insomnia. Stress, anxiety, obsessions, psychoses, learning difficulties.
Do not use in: depression, loneliness.
Complementary colour Orange or Yellow
Use in the Home
Colour Personality
A person who favours blue is sensitive and easily hurt. You never panic and are in total control of your life and content with the way it is going. You desire to lead an uncomplicated and worry-free life, and are prepared to sacrifice certain goals in order to achieve this. You need a stable relationship without conflict. Perhaps as a side-effect to contentment, you tend to put on weight. The later blue appears in your list, the more unsatisfied you are the more you feel the need to break from the ties that restrict you. But you may not feel able to do anthing about this; instead, you may suffer in silence.

Relaxed, quiet, not confident, withdrawn, organised, creative, sluggish, sensitive, inhibited, honest.
Colour for Mental Health & Colour Breathing
Indigo

Indigo stimulates intuition and imagination, and is a strong sedative. It's the colour of divine knowledge and the higher mind. Indigo is said to be a powerful anaesthetic and can reduce pain.
Use in the Home
Violet and Purple
Balance the mind and help transform obsessions and fears. Violet an

d Purple bring peace, and combat fear. Violet has the shortest wavelength of all the colours. They are also associated with artistic and musical ability, stimulating creativity, inspiration, sensitivity, spirituality and compassion. They are very introvertive, causing us to look within ourselves, encouraging contemplation and meditation. It enhances purpose and dignity. However, too much violet or purple can cause too much introspection. Violet is said to be very beneficial for psychological disorders, and all disorders relating to the nervous system.
Promotes: inspiration, imagination, empathy, self-respect, dignity, spirituality, intuition, clarity, confidence.
Good for: Exhaustion, migraines and other headaches. Stress and anxiety, obsessions, low self-esteem.
Don't use in: nightmares, addictions
Complementary colour Green
Use in the Home
Colour Personality
The person who prefers violet wants to find a mystical, magical relationship. Both physically and emotionally immature, you are stuck ina dream of wishful thinking and fantasy. If violet is one of your least favourite colours, it indicates you are more mature and have outgrown the fantasy vision of life, confronting harsh reality head on.

Individualistic, inner balance, disorganised, self-respecting, visionary, doubting, spiritual, peaceful, calm.
Magenta

Uplifting when feeling angry and despondent. It is associated with compassion, support and kindness. Avoid if feeling chronically depressed. Magenta is a combination of red and violet, thus combining our physical self with our spiritual self, balancing body and spirit. Magenta enables us to let go, and move with the flow of life. Letting go of routine, feelings, ideas and emotions. Magenta is said to be useful in the treatment of tinnitus, benign cysts and for detached retinas.
Promotes: letting go of the past, blood supply to the brain, stimulates nervous system.
Good for: headaches, tinnitus, aggression.
Complementary colour Green or Turquoise
Use in the Home
Colour Personality
Not included in the 8-colour Luscher Colour Test

Compassionate, knowledgeable, co-operative, stimulating, might of self, affectionate, forceful, loving, wise.
Pink
Emotionally soothing and calming, pink gives a feeling of warmth and nuturing. It reduces feelings of irritation and aggression, alleviates loneliness, oversensitivity and vulnerability. Whilst red relates to sexuality, pink is associated with unconditional love. Too much pink can be emotionally draining.
Promotes: calming spirit, clear thinking, sensitivity, compassion, kindness, forgiveness.
Good for: stimulating immune system, heart problems, insomnia. Stress and trauma, anger, aggression.
Complementary colour Pale Green
Use in the Home
White
The colou

r of purity. It contains all the colours of the spectrum, and therefore brings peace, comfort, and alleviates despair and emotional shock, facilitating inner cleansing of emotions, thoughts and spirit. However, too much white can be cold and isolating. White is unforgiving and uncompromising.
Promotes: Cleansing, clarifying, hopefulness
Good for: sleep problems, headaches.
Use in the Home
Any room but too much white can be intimidating. Break up the white with other colours, or with plants, pictures etc.
Black
Comforting, protective and mysterious. Associated with silence, and the infinite. Black can also prevent us from growing and changing.
Promotes: Self-discipline, strength, liberation, reveals hidden potential. Energy anchor.
Use in the Home
Colour Personality
Anyone choosing black as their favourite colour (which is rare), is in revolt against their fate. Chosen second, it means you are prepared to give up everything else to achieve what you want. It is normally put in 7th or 8th position, representing control of one's destiny and a balanced outlook. If yellow precedes black in the first 2 positions, then a change is on the way.
Colour for Mental Health & Colour Breathing
Brown

The colour of Mother Earth, brown brings stability and alleviates insecurity. It can also relate to repressed emotions, and narrow-mindedness, resulting from lack of self-worth. It has much of the serious nature of black, but is warmer and softer.
Use in the Home
Colour Personality
If you choose brown as your favourite colour, you are restless and insecure. Placing brown early also indicates the importance of a secure environment (refugees often pick brown first). If you put brown in 4th or 5th place, you are not very concerned about your health and body. This means you are probably in good shape. Those worried about illness tend to put brown earlier in the sequence. If brown is last, you don't care enough for your body and you may not be as healthy as you think.
Grey

Associated with independence, self-reliance and self-control. Grey shields us from outside influence. Grey is also the colour of evasion and non-commitment. It relates to isolation and self-criticism. Some experts believe grey is the only colour to have no psychological qualities, but it can be very suppressive.

Colour Personality
Grey in first position means that you want to shut yourself off from everything and remain uncommitted, so that you can swing with opinion and emotions. You have joining anything with group connotations and are an observer rather than a doer. Those who put grey in the last position seek to join everything, eager and enthusiastic. Such people will try absolutely everything in their efforts to achieve their goals.
Silver

The colour of the moon, which is ever changing. It relates to the emotional and sensitive aspects of the mind. It balances, harmonises and is mentally cleansing.
Gold

Associated with the sun, and therefore to abundance and power, wisdom and understanding. It is mentally revitalising, energising and inspiring, and is helpful for fear, uncertainty and lack of interest.
Promotes: energy, enthusiasm, balancing thoughts and feelings, wisdom, immune system, soothing.
Good for: depression (especially during menopause), digestive problems, irritable bowel syndrome, skin problems.

MP3 guided imagery/relaxation downloads
Links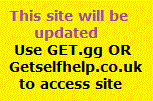 MP3 guided imagery/relaxation downloads
Carol Vivyan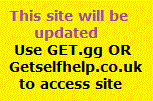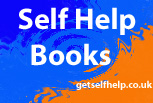 Free CBT Exercises Online