Email CBT
Email CBT | Who is it for? | Confidentiality | How it works | Cost | About Me | Contact
Cognitive Behaviour Therapy via secure, confidential Email
If you think you need more than using the free online self help resources, a confidential and secure email therapy service is now available.
Sometimes it's not easy to find a therapist in your local area, maybe it's difficult to get time off work to attend sessions, or perhaps you just want to maintain your confidentiality.
Email therapy may be the answer for you. You can participate at times that are convenient to you, and receive individualised therapy from a BABCP accredited Cognitive Behavioural Psychotherapist.
Does it work?
Cognitive Behaviour Therapy (CBT) is an effective treatment for depression, anxiety and many other mental health problems. Click here for details of completed studies
A study published in August 2009 (Kessler et al, 2009, The Lancet 374) found that online individualised CBT (direct contact with therapist rather than a computerised programme) is effective in treating depression. Further studies are expected to show similar positive results for other conditions.
Click on the links at the top or left hand side of the page to learn more about Email CBT.
Click here to learn more about Cognitive Behaviour Therapy (link takes you to getselfhelp.co.uk main website)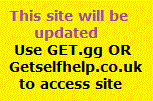 MP3 guided imagery/relaxation downloads